Our breeding policy
Our Welsh Cobs are bred from a foundation of mares and stallions imported from Wales. Here, where the Welsh Cob has lived for centuries, we have carefully selected our foundation stock from the best bloodlines, bred at some of the finest and most successful studs in the country.
The foundation for our stud is 3 lines from 2 studs, namely Rotherdale and Trevallion:
<![if !vml]>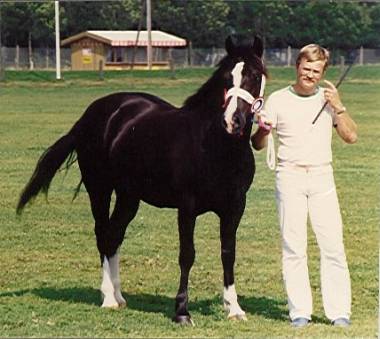 <![endif]>
1. Our first foundation mare, Su. Ch. Rotherdale Eclipse, was select because her pedigree included all the most famous Welsh Cob stallions such as Nebo Black Magic, Cahn Dafydd, Pentre Eiddwen Comet, Caradog Llwyd, Mathrafal and Tyhen Comet.
We think, that Eclipse's ability to breed top class fillies has proven that our choice was right. But when I look at the long list of great sires in her pedigree I'm still a bit surprised that Eclipse not (yet) has bred a colt of stallion potential.
<![if !supportEmptyParas]> <![endif]>
After having listened to a lot of good and experienced Welsh Cob friends in Wales we realised, that it is even more important, when you want to create a successfull stud, to base it on strong female lines, and therefore the other 2 foundation mares have been selected, because they represent some of the strongest female bloodlines in the last century.
<![if !vml]>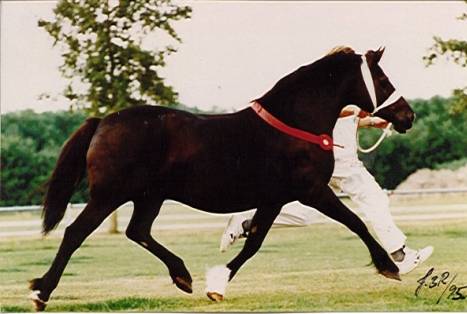 <![endif]>
2. Our second foundation mare was thus Su. Ch. Rotherdale Heiress. She is a daughter of Tydfil Magic Princess, who has set a remarkable record: She won the Royal Welsh Show 4 times herself, and furthermore she has bred a string of super-fillies, from which the most fantastic is Rotherdale Magic Princess, who also won the Royal Welsh Show 4 times and was Overall Supreme Champion of the Centenary show 2002!!
The strength of this female line has thus been proven, and it is therefore with great pride that we have noticed, that our Heiress - already in a young age - has bred 5 daughters, who have all won at the National Annual Grading Show and have all been graded in 1st Class and/or have all been Supreme Champions -  namely:
<![if !supportLists]>· <![endif]>Valhalla's Queen of Hearts: Graded in 1st Class; belongs to the Dynamite Stud.
<![if !supportLists]>· <![endif]>Valhalla's Heiress: Graded in 1st Class; belongs to the Rosengarden Stud.
<![if !supportLists]>· <![endif]>Valhalla's Hillary: Graded in 1st Class; 4 times Su.Ch. Welsh Cob and 3 times BEST-IN-SHOW at the National Grading Show. Thus she is the EVER most winning Welsh at the National shows. She is also Overall Female Champion at Roskilde 2000; Hillary will stay at Valhalla forever.
Valhalla's Hazel

: 6 times BEST-IN-SHOW; belongs to Julie Bloch Pedersen

Valhalla's Hot Chocolate

: 1st as a foal (National show); BEST-IN-SHOW at Youngstock show 2003 and at the Summer Show 2004; belongs to the Mailund stud (Henriette Lindberg & Jakob Jensby).
And Heiress was also the dam of the group of 3 Valhalla Cobs, that won the Danish Stud Championship in 2002, and her Progeny Group was in 2004 awarded MAXIMUM points (24)!!!!
<![if !supportEmptyParas]> <![endif]>
<![if !vml]>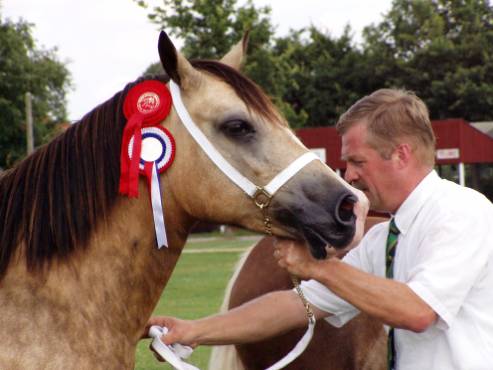 <![endif]>
3. The third foundation mare, Trevallion Lady Lillian, was bought in October 2002 as a replacement for Trevallion Chloe, that we owned for a couple of years and sold on to the Lindberg stud. For a long period we had been admiring the high quality of fillies and mares, that had been bred at the wellknown and respected Trevallion stud with Nelson Smith. Almost all of these mares, including the Royal Welsh champion and George Prince of Wales Cup winner Trevallion Georgio, descended from the great mare Tapton Rachael, that virtually founded the succes of the Trevallion stud.
It was therefore with great pleasure that we have acquired 2 mares from the female line of the old Rachael. The first mare was Chloe, who bred foals of very high quality for us, and now Lady who has been bought especially because I (= Carl) for many years have dreamt of owning a dun mare – and now I found her!!
Read more about her in her new page in the "Photos & Results" section.
To breed from these 3 foundation mares (you can read more in the section "Photos and results") we normally lease colts or stallions from Wales.
It is our goal to breed medium sized and very typical Welsh cobs with the typical versatility and talent for show jumping, dressage, cross country and driving. We therefore especially stress the importance of correctness and quality, powerful movement and a good temperament, and on this basis we aim to breed Welsh Cobs of international top quality.
As it reads from the overview of our Cobs, we have so far had a lot of success with this policy - in Danish shows and internationally. Our Cobs have e.g. won the national Danish Welsh Cob championship 14 times in the period 1987-2003, and titles like:
Welsh Pony or Cob of the year / BEST-IN-SHOW

at the national grading show (5 times)

Overall Champion foal

- of all horse breeds at Roskilde Agricultural show (twice)

Overall Champion 2 year old filly

- of all horse breeds (Roskilde; twice)

Overall Champion 3 year old filly

- of all horse breeds (Roskilde; twice)

Overall Female Champion (broodmares)

- of all horse breeds (also at Roskilde)

BEST-IN-SHOW at foal- and youngstock shows

 

BEST-IN-SHOW at stallion parade
Valhallas Hillary; Overall Supreme Female champion 2000
Photo: Laila Larsen<![if !vml]>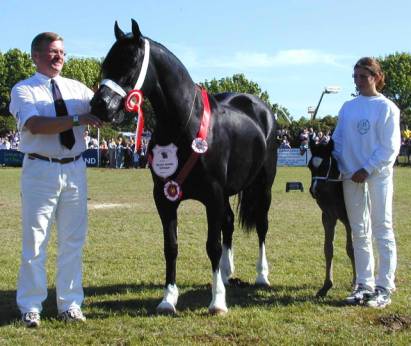 <![endif]>
and with Valhalla's Emily international titles like:
European Overall Youngstock Champion

(all sections)

European Supreme Welsh Cob Champion

European Reserve Overall Supreme Champion
<![if !vml]>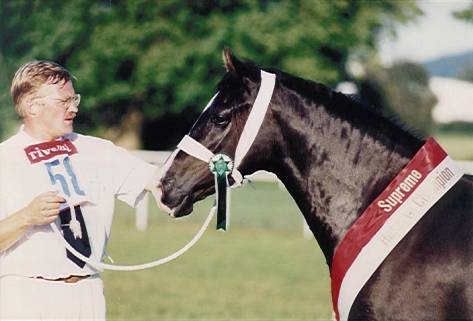 <![endif]>
At Valhalla stud we normally have 5 or 6 foals every year, and therefore we can usually offer a number of high quality foals for sale each summer. We sell our foals and youngstock with a guarantee, that they are healthy and sound - and history shows that most of the fillies we have sold, have ended up as high quality brood mares and/or riding Cobs.
As we sell most of our Cobs when they are foals (or before they are born), we can not normally sell you a Valhalla Cob, if you are looking for a mature, broken Cob for riding. But as we know a number of top class breeders in Wales and the UK very well, we will be happy to find the right Cob for you elsewhere; just give us a call or an e-mail.
All our stock live in large and sheltered fields in the hills of the beautiful Røsnæs peninsula. They therefore are born and raised under optimum and very natural conditions, and with a magnificent view over the Kalundborg fjord. It might be, that the Cobs don't enjoy the view themselves, but you are most welcome to come and visit us - and judge that yourself.
- but please call first and make an appointment.